Perspectives – Study is advocating for an open-minded and interculturally competent society.
We are committed to ensuring that all people – regardless of origin and residence status – can continue their educational pathway and contribute their potential to shape the society.
That is why we provide counselling for refugees who:
would like to have their diplomas recognized in Switzerland.
would like to study (again) in Switzerland.
We inform professionals in the fields of integration, education & counselling about:
support programs for refugees who are interested in studying.
the recognition of foreign diplomas.
We organise networking meetings to bring the different actors (administration, universities, integration services, etc.) together and promote the exchange of good practices.
We advocate politically for a systemic change so that in the future all people with the necessary potential are allowed and supported to start or complete their studies in Switzerland.
We work closely together with local projects at higher education institutions that support refugees on their way. Go to overview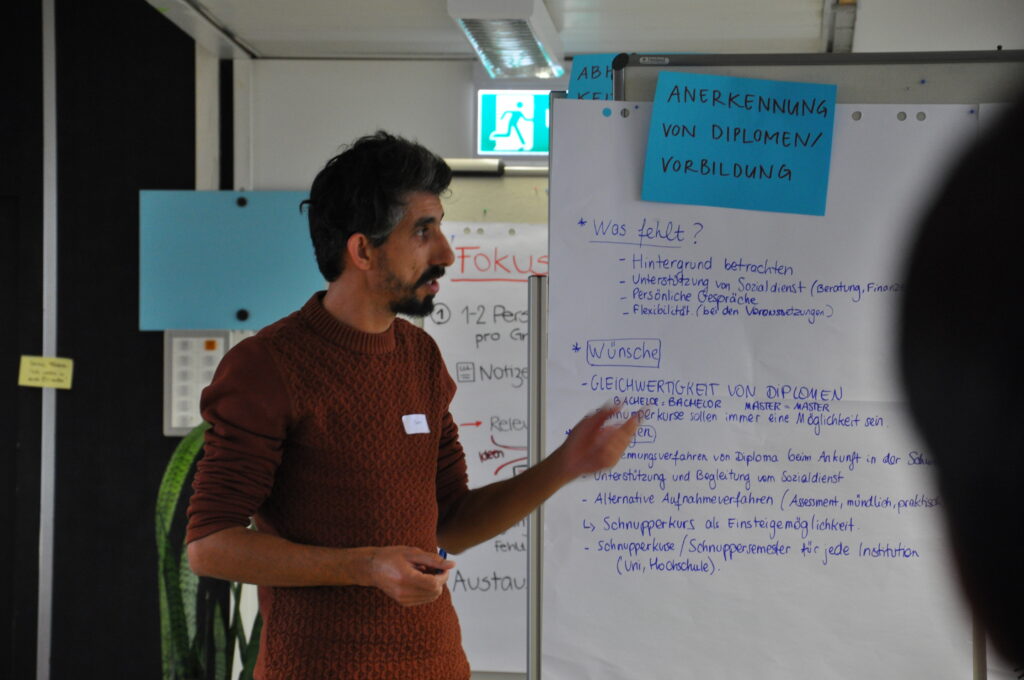 In keeping with their commitment to promoting greater institutional openness and equal access to higher education for refugees, the Swiss Student Union (VSS) launched the project Perspectives – Studies in 2016.
Perspectives – Studies operates on the basis of the following demands (in German), which were elaborated together with (refugee) students.
Currently, Perspectives – Studies is in its second project phase. Annual reports 
1) LOCAL PROJECTS  
We work closely together with projects for refugees at various Swiss higher education institutions : Go to overview 
2) HIGHER EDUCATION INSTITUTIONS  
INVOST Integration pre-studies at universities of applied sciences – HT FHNW und HES-SO 

 

Uni4Refugees
3) SWISS CONFEDERATION 
4) CAREER AND STUDY COUNSELLING / GUIDANCE 
5) ORGANISATIONS  
6) FOUNDATIONS 
Mercator Switzerland Fundation 

 

Volkart Fundation 

 

EKM citoyenneté 

 

Schweizerische gemeinnützige Gesellschaft (SGG) 

 

Hirschmann Fundation